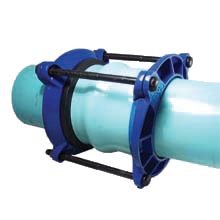 Smith-Blair 274 Bell Joint Leak Clamp
Smith-Blair 274 Bell Joint Leak Clamps provide a fast, economical means of sealing or preventing leaks in pipe with bell and spigot caulked or rubber ring joints. The design of the "Kee-Lok" gaskets and Bell-Spigot rings enables a single clamp to fit both caulked and rubber gasket joints on virtually all classes and brands of cast iron or ductile iron pipe in nominal sizes up to 36-inches. They are also suitable for use on AWWA C-900 and C-905 PVC pipe thru 24"
(longer bolts required) (DR 18 minimum wall thickness).
QUICK PRODUCT REFERENCE GUIDES