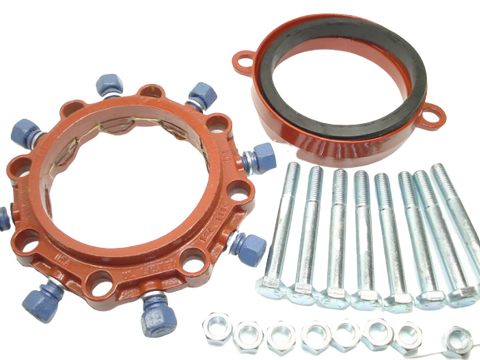 Megaflange Restrained Flange Adapter
The 2100 MEGAFLANGE Series Adaptors for ductile iron pipe. Field adjustable wedge style system Used on AWWA C900 and C905 PVC pipe, IPS O.D. (class) PVC Pipe, Ductile Iron, Steel and HDPE pipes
Features and Applications:

MEGAFLANGE adapts and restrains plain end Ductile Iron, PVC, Carbon Steel and HDPE pipe to flanged pipe or fittings, where the flange conforms to ANSI/AWWA C111/A21.11 with flange surface facing in accordance with ANSI/AWWA C207 of the latest revision.
Meets ANSI B16.5 Class 150/125 drilling pattern.
Flange Bolts are zinc coated, fastener class coated bolts or stainless steel bolts are available
Not for use on plain end fittings
MEGA-BOND Restraint Coating System
Minimum 2 to 1 Safety Factor
Constructed of ASTM A536 Ductile Iron
UL listed on sizes 3 inch through 12 inch
FM approved on sizes 4 inch through 12 inch on C900 Class 150 and Class 200 PVC Pipe
Pipe can be cut to length in the field• Joint deflection up to 5°
Easy dismantling allows fast removal of valves, meters or fittings for replacement or repair
For use on water or wastewater pipelines subjectto hydrostatic pressure and tested in accordance with either AWWA C600, C605 or ASTM D2774.
QUICK PRODUCT REFERENCE GUIDES